We service these brands: Bugatti, Maserati, Rolls-Royce, Jaguar, Land Rover, Ferrari, Lamborghini, and Audi.
Porsche, Mercedes-Benz, & BMW since 1983
European Performance is a full-service Porsche Repair, BMW Repair, and Mercedes Repair Shop serving the Tampa Bay / St. Petersburg area. We've provided professional European auto repair and services since 1983.
With 38 years of experience servicing some of the most prominent car brands in the industry, including Mini, Audi, Volkswagen, Volvo, Jaguar, and Land Rover, European Performance is the trusted auto repair shop in Florida. It is our goal to provide unsurpassed expertise and customer service. Our personal service, attention to detail, and focus on value will ensure your vehicle is running reliably for years to come.
Dedicated Customer Service
We understand that your car is not just a ride. At European Performance, we value our clients' trust when they leave their cars at our garage. Personal service and attention to detail are at the core of our values at European Performance. We can go beyond just repairing your car. If in the rare case we did not meet your expectations, let us know, and we'll get it right for you.
Highly Skilled Technicians
European cars have unique features that require years of experience to familiarize and master. At European Performance, we take pride in how our team provides efficient service to all our clients. Our technicians are not only highly skilled in performing any needed repairs but are also knowledgeable in diagnosing your car's problems. Our mechanics always pay attention to minor details.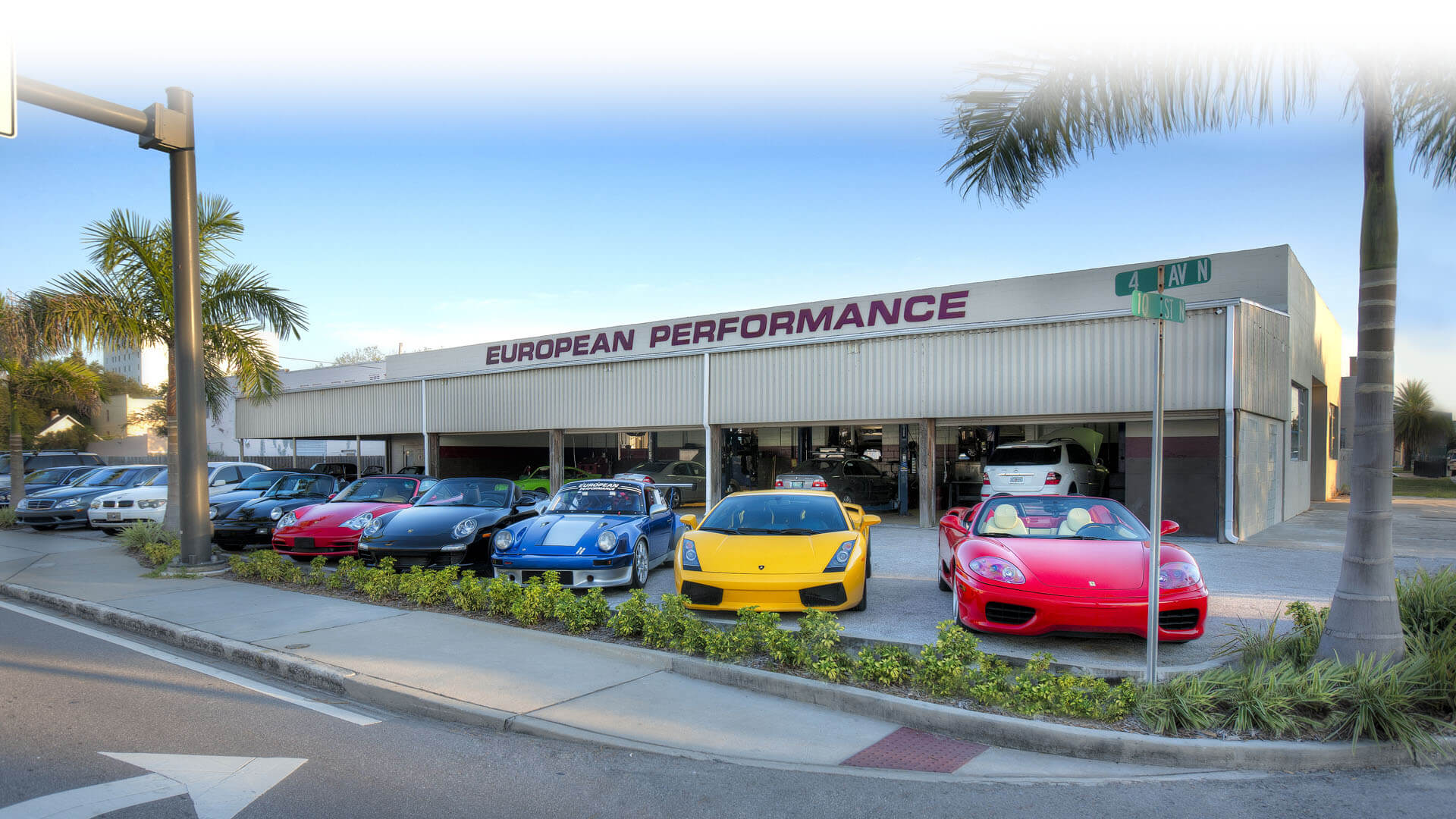 High-Quality Service at a Reasonable Price
We know that maintenance of these cars, or any car for that matter, doesn't come cheap, but at European Performance, we provide an honest estimate without compromising the quality of work. We deliver what needs to be done, and we prevent further problems by providing efficient diagnosis. Quality of work is the heart of our business. We are always here to help you get back to the road satisfied with our services, at a reasonable price.
State-of-the-Art Equipment
High-quality service can only be done with high-quality equipment. At European Performance, we use cutting-edge technology for our services so we can deliver results that exceed expectations.
Performance Services & Race Preparation
In addition to providing superior service for your daily driver, European Performance offers custom fabrication for street or race applications and track setup, including track alignment and corner balancing.
European Performance is an authorized dealer of FabSpeed products, Softronic Porsche Tuning, and Dinan Performance's BMW products. When your car needs repairs, or when it is time for its regular maintenance, you know you can always count on us at European Performance.
Micky and the team at European Performance have been spectacular to work with. We have a Cayman and a Cayenne which are both kept in top condition which is no easy task since I track the cayman at Sebring. Prices are always fair and the work is top notch which is important since I'm heading into turn 17 at 125 mph. My wife's Cayenne has almost 100k miles and runs perfectly due to the amazing service we get at European Performance. I'd recommend anyone who loves their German cars to skip the dealers and other shops. This is the place to go for fair prices and top performance.
Great experience working with Mickey Jr. And the team at European Performance. Every team member I met was friendly and made me feel welcome to be at the shop. Mickey Jr. knows his cars, did not recommend silly expensive parts or services, and offered referral to another service team for work he didn't cover. They are very busy for being so good but any wait you may experience is more than worth it. I do recommend European Performance yo anyone that needs basic service or any mechanical repair on their EU auto.
Mickey and Josh have a great team and do great work for a fair price. Highly recommended if you want factory quality work done on your European performance car. They mounted new tires for me and did a performance alignment for a fraction of what the dealership would have charged me. Great work, done on time, and gave my car a good washing too.
I drove 27 miles from Tampa to have an oil change done on my range Rover sport, and sat outside gazing at all the high performance eye candy around their facility. This business is top notch , they did a factory service with high quality parts and saved me literally 115.00 over a dealers price for the same service. Helpful, knowledgeable and friendly staff! We moved from Atlanta to Tampa and am sure glad I found them for all my future service needs!
I've been going here since I moved here in 2013. My past two cars have been older $10,000 used BMWs that require some upkeep. Everytime I roll in I see the majority of the cars being worked on are supercars that cost more than my condo. Regardless, they always treat me like they value my business. This is a place that values customer satisfaction instead of profit which is the right way to run a business if you like repeat customers. Big shout out to Bradley who's always is on top of everything and makes my visits enjoyable, give that dude a raise or something he's awesome!
The only place I trust to take care of my BMW. Owning a European sports car isn't cheap but at European Performance I know I won't be price gauged and that I will get an honest assessment with an honest price. It's a small shop so waiting for your vehicle isn't ideal but other than that you can't go wrong. These guys are very knowledgeable and good to work with. I highly recommend this place!
Great mechanics that take care of my car very well. They do a thorough inspection and the pricing is reasonable. I just like looking at the cars they work on here. I dropped off my car today and they were working on a vintage Ferrari, a Porsche track car and a very nice Aston Martin. The garage was full of Porsches and BMWs. If someone can trust them to work on a classic Ferrari GTO then... They do not have any loaner cars but will drop you off at home or work and pick you up when your car is ready. These guys are top notch. If you have a European car out of warranty this is a great indy shop.
Sunday night my BMW 535I would not start. I thought it was my battery and had the car towed to European Performance on strong advice from a close friend. Monday morning speaking to Josh he said it sounds like a starter but they would do a diagnostic and let me know. Within a couple hours he called back and said that it was in fact a starter. His price to do the work was fair given I knew approximate cost already. On Tuesday I got a call from Josh again and said after they got the vehicle started they noticed a clicking noise. I was aware of this too and had an idea what it was and he confirmed that. I know he was concerned about finding another thing wrong with my vehicle but the fact that I knew that it was something already existingHelped me develop trust. I highly recommend them and will be back.
Highly recommended to take your vehicle to! I have owned a Ferrari, Porsche and Mercedes and have had the BEST luck dealing with European Performance, they have dedicated mechanics, helpful staff and they even drive you home while your car is getting repaired and then pick you back up for no extra charge, my car is running great so hopefully I do not need to come back in any time soon, but its nice to know European Performance are so close to me if help is needed.
This was my first visit - I expected it to be great and it was. I had a coolant fill and flush done on my 2008 Volkswagen R32. Josh was extremely helpful in getting me in. They were willing to use some left over coolant I had just bought to top my car off with. Very knowledgeable. Price was extremely reasonable and Josh was even willing to shuttle me or pick me up - Though I just walked downtown for coffee. Job was done in less than 2 hours. Highly recommend this shop and they will have my business for a long time to come.