Assured Road Safety With European Performance's Wheel Alignment Service
It is recommended for car owners to bring their car in for wheel alignment every 2 or 3 years, depending on the build of their car.
Wheel Alignment or tire alignment is not just the adjustment of the tires or the wheels themselves. It is the process of adjusting a vehicle's suspension to make sure that the vehicle is aligned to the direction of travel. This is an integral part of preventive maintenance as neglecting misaligned wheels could compromise your safety on the road.
At European Performance, road safety is our top priority. Having been in the business since 1983, European Performance has become synonymous with quality work that exceeds expectations. Our team is composed of highly skilled technicians who are passionate about European cars. With state-of-the-art equipment and almost four decades of knowledge and experience in servicing European cars, we are the auto repair shop for your maintenance needs.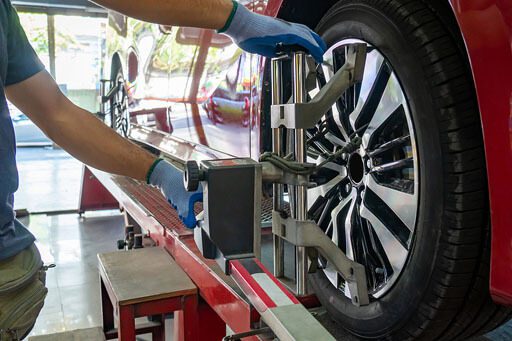 What Happens During A Wheel Alignment Service
During alignment, the wheels are checked, rotated, and properly adjusted. The adjustments done are usually based on three different misalignment conditions.
In some cases, adjustments to the steering angle sensors are also needed. Since steering angle sensors determine the direction that the driver wants to steer, adjustments are made to ensure accuracy while driving.
Consequences of Having Misaligned Wheels
1. Tires Will Wear Quicker
When your wheels are not properly aligned, your tires will wear unevenly. When this happens, this will affect the longevity of your tires and require you to change them more frequently.
If you are driving straight, your steering wheel should be in a central position. If your steering wheel is slightly skewed to any other direction when you are driving in a straight line, this is a tell-tale sign that you need a front wheel alignment. If you try to drive with your steering wheel in a central position, you will notice that your car will veer slightly towards another direction.
When your wheels are misaligned, your vehicle will be forced to work harder in order to deliver the expected performance. Hence, more fuel will be needed. In the long run, improper wheel alignment will cost you more money–both for fuel and frequent tire changes.
4. Neglect Could Lead To Accidents
Neglecting misaligned wheels could lead to complications that could increase the chances of an accident. So, it is best to look for wheel alignment services as early as possible.
Experience Smoother and Safer Trips
At European Performance, we have a team of highly trained technicians to provide you the best wheel alignment services in the Tampa Bay Area. Whether it be front wheel alignment or rear wheel alignment, we have you covered! For smooth and safe trips, choose European Performance. Give us a call at
727-823-4685
or
email us
if you have any inquiries.